11 Beautiful Abandoned Places in Berlin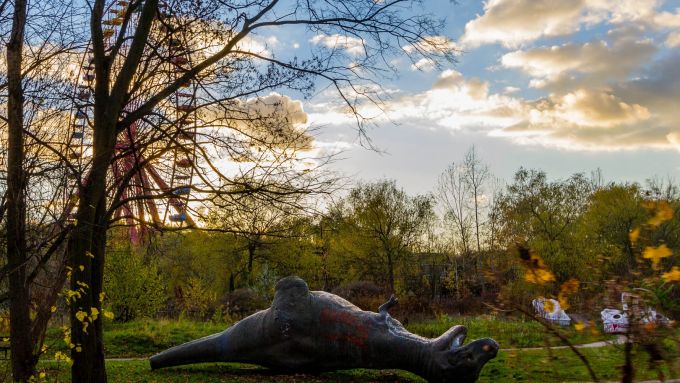 1

Visit the abandoned Rollercoasters at Spreepark

Berlin's famous abandoned amusement park. Everyone knows about Spreepark! Abandoned on Nov. 4, 2001, it's been rotting among the trees of Plänterwald since, home only to a few remaining dinosaurs, a rusty rollercoaster into the jaws of a psychedelic cat, a headless pirate ship, the remains of a wild west town, swan-boats and a few spectacled cars in bowler hats. It was known as VEB Kulturpark Plänterwald after its opening on the DDR's 20th birthday in 1969. Now the city has plans to reopen it again in some form or other. But dit ist Berlin, where plans rarely go to plan. Spreepark might be abandoned for a long time yet.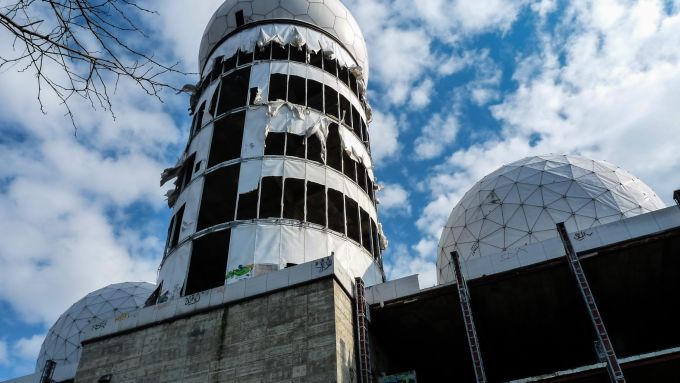 2

Visit the Spy Station at Teufelsberg

Everyone knows about Teufelsberg too – but no Abandoned Berlin list is complete without it so here it is. The old Western spy station built on rubble piled together over a Nazi collage after World War II has fared badly since the Cold War melted into insignificance, and its fate hangs in the balance as the city and its owners squabble over an acceptable outcome. It's not quite the Cold War but relations have turned frosty and no one knows how they'll turn out. For now though, the owner's son has taken over, and he lets people have a browse around to admire some magnificent street art for €7. There was a time it was truly abandoned and you could just wander in but those days appear to be from another era – just like Teufelsberg itself.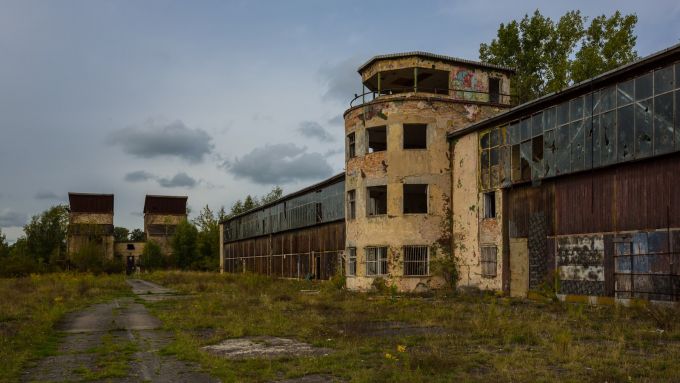 3

Have a walk at the empty Airfield Rangsdorf

The airfield from where Claus Schenk Graf von Stauffenberg flew off with a bomb to assassinate Hitler is abandoned, forgotten, neglected and ignored. If only Von Stauffenberg had succeeded! Maybe then Rangsdorf would have had more fame and more appreciation, like Tempelhof, which was abandoned too but never allowed fall into disrepair. The Russians took over Rangsdorf after its heyday – when stars like Elli Beinhorn, Bernd Rosemeyer, Beate Uhse all flew here – but they could never recreate the good times. They left a load of rubbish when they took their trains back to Moscow, rubbish that has dwindled in the years though its traces remain.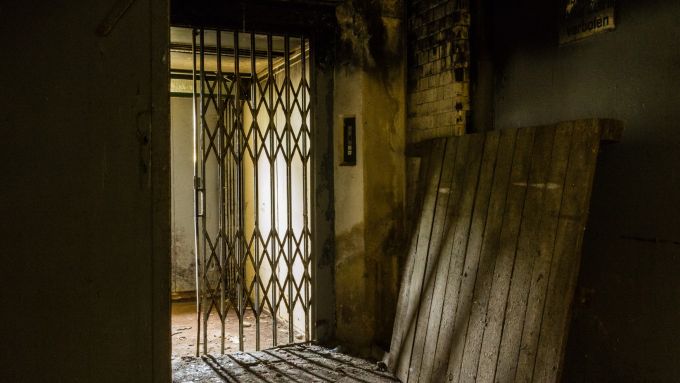 4

Be frightened at Quiet SS Bakery

Quite near the former concentration camp at Sachsenhausen lies a bakery where workers toiled to make fellow inmates' bread. While no one gave a damn whether they lived or died, somehow prisoners were supposed to keep them alive, and so at one stage they baked up to 40,000 loaves a day for their brethren, for the Mittelbau-Dora, Groß Rosen and Ravensbrück concentration camps. The Russians took over after the war and kept production going to feed liberated prisoners and most likely their own until Mauerfall, when everything changed and lots of things fell silent. The SS Bakery is quiet again now. Maybe it's better that way.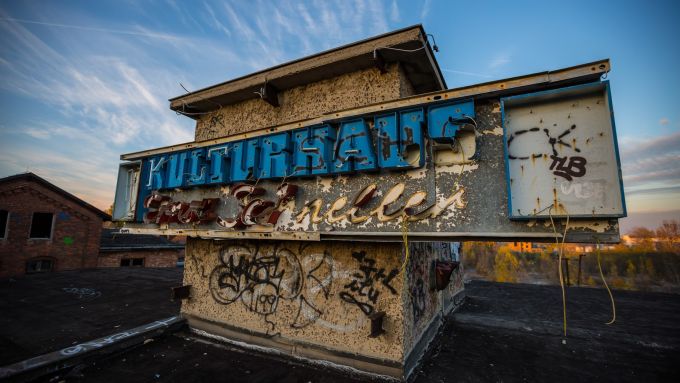 5

Former VEB Berliner Metallhütten und Halbzeugwerke

BMHW, as the huge former metal works beside the Spree was known by people who value letters more than words, provided employment for 2,300 workers until German reunification pulled the plug on their endeavor. Perhaps it was apt, as BMHW was built on lands originally stolen from a Jewish family, though of course that wasn't the fault of the workers. The Ernst Schneller Kulturhaus provided relief from their travails, relief from the heavy metal. In the 1990s, when BMHW was wound up, it became the Cisch-Klub, the scene for legendary Depeche Mode parties. Now the music is over, but you can still enjoy a quiet beer on the roof.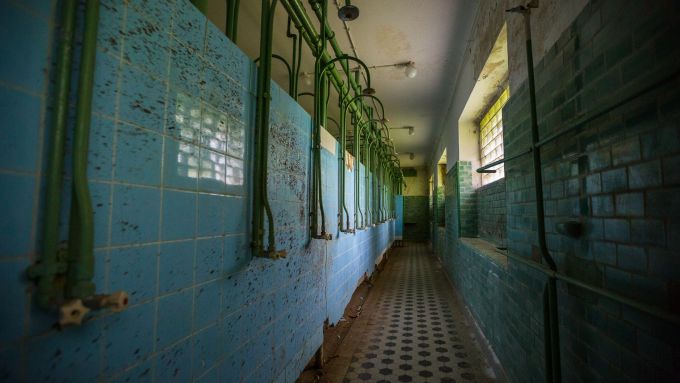 6

See Military Past at Wünsdorf

Military history is not something to be proud of and so Wünsdorf now presents itself as a "Book Town" hooked on the pleasures of reading. But it used to be very different. The area had been involved in military action since the time of the Imperial German Army and Prussian Army, becoming Europe's largest military base by 1914, when World War I broke out. Wünsdorf became the site for Germany's first mosque, catering for Muslim prisoners of the Halbmondlager. The Nazis made their underground bunker headquarters for the German Wehrmacht and Army's High Command at Wünsdorf. Then the Russians took over, making it the headquarters for Soviet military forces in Germany, a city in the forest known as "Little Moscow" or the "Forbidden City." Thankfully it's not forbidden anymore and you can visit various museums, bunkers and even the Soviets' Haus der Offiziere with its impressive statue of Lenin gazing impassively outside.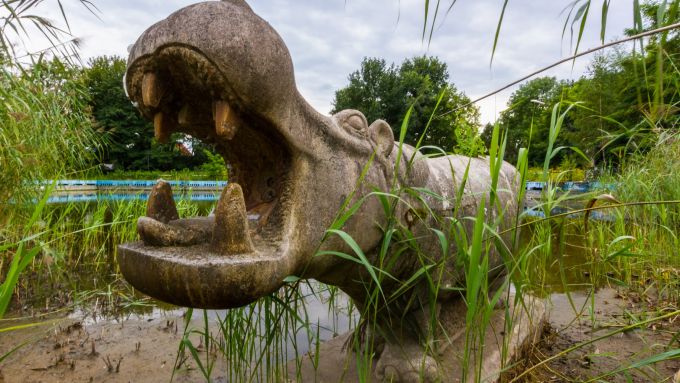 7

See forgotten Hippos at Swimming Pool Wernerbad

Knautschke the forgotten hippo has been waiting since 2002 for the Wernerbad to open up again. He'll be waiting a while longer. The Wernerbad was immensely popular with swimmers in the good old days of the DDR but once the Wall came down it wasn't good enough anymore. Too loud! Too dear! Not enough parking spaces! Bad public transport connections! Bah. It was actually Berlin's oldest Freibad, going back to the time Wilhelm Werner opened the Badeschlösschen, a bathing lodge with restaurant, beside a small natural pond here in 1901. It was officially termed a swimming pool four years later and expanded to a 50-meter pool suitable for competition between 1957-59. Now it'll take a lot of money to reopen it again, millions that will likely never come. Poor Knautschke has been waiting so long he's turned to stone.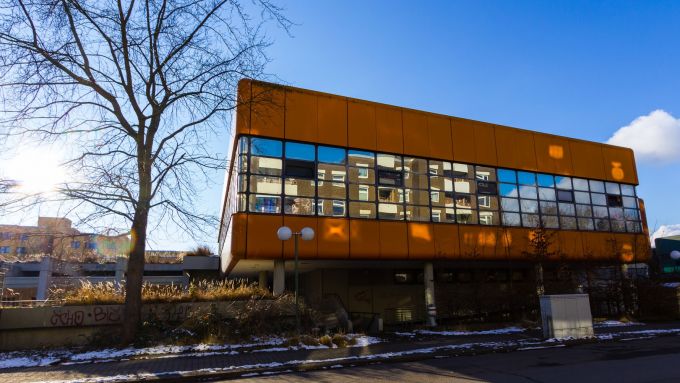 8

See the death of consumerism at Cité Foch Shopping Center

Anyone wishing to see the death of consumerism will be cheered by the fate of the Cité Foch shopping center. It's been abandoned since 2006, when the investor who owned it went bust. It was built in 1975 with a cinema and leisure center to cater for inhabitants of the local settlement for French military personnel and their families. The French were in charge of this part of West Berlin. Originally the settlement was called Cité Toucoulou but it was changed to Cité Foch to honor the World War I soldier Ferdinand Foch, not to be confused with Ferdinand Fuchs, an actual fox. The Cité Foch Einkaufzentrum is supposed to be knocked down for apartments. If you want to see the death of consumerism before it's killed altogether you'd better make it soon.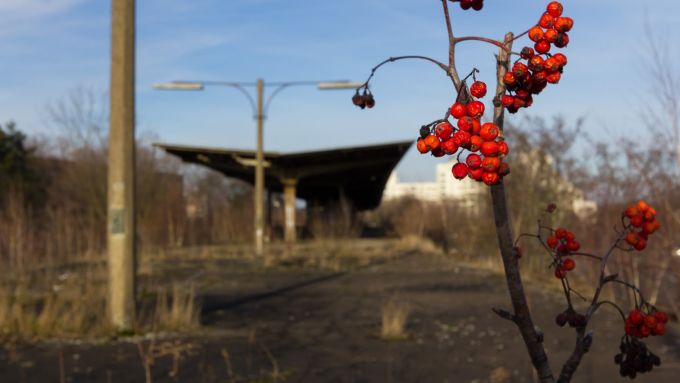 9

Visit the Ghost Stations of Siemensbahn

Three ghost stations haunt the forgotten S-Bahn line of the Siemensbahn, waiting for trains to trundle through once again. The tracks are covered in lichen and leaves, bits of branches and foliage – anything, in fact, that has nothing to with trains, which have been remarkably absent from the line since September 1980. A boycott of DDR-run S-Bahns through West Berlin and then a train workers' strike proved reason enough for the East German state railway to cut the service altogether. Some people harbor dreams that the Siemensbahn will run once more from Jungfernheide, but it seems pretty clear to anyone who visits any of the three stations that this is one rail service that has already reached the end of the line.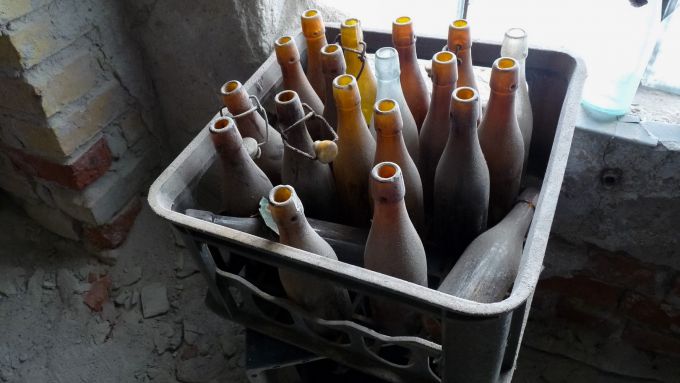 10

Discover the Abandoned Bärenquell Brewery

Once the Berlin Wall came down, locals suddenly realized there was more to do than drink. Unfortunately for breweries in East Germany this spelled the end for many of them, deserted quicker than parties when the fridge runs dry. Bärenquell closed its doors for the last time on April Fools' Day, 1994, ending its time as a brewery after 112 years. It had opened as the Borussia Brauerei in 1882, later bought by Schultheiss AG and expanded in 1898. Called VEB Bärenquell in DDR times, it produced one of Berlin's most popular beers, renowned for its good taste. By the time of its closure it was one of the "big four" breweries along with Kindl, Berliner Pilsener and Schultheiss. But now if you want to drink a Berlin beer there it will have to be one of the surviving three.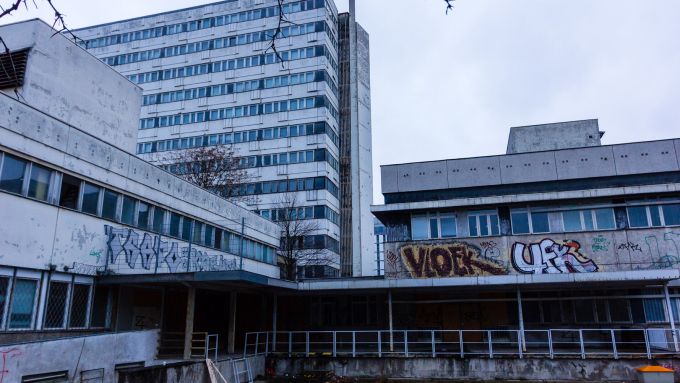 11

Have a look at Stasi's Haus der Statistik

A big hulking ruin overlooks the tourists and shoppers on Alexanderplatz, sneering from above despite its own sorry state of dilapidation. Back in its operational DDR days it used to overlook them too, though it wasn't just tourists and shoppers it was interested in – the Stasi watched over everyone. Haus der Statistik was the DDR's former statistics-gathering headquarters, with the top three floors of the 12-story building used exclusively by the omnipresent Stasi, short for Ministerium fur Staatssicherheit. After German reunification, the building became Die Bundesbeauftragte für die Unterlagen des Staatssicherheitsdienstes der ehemaligen DDR, housing Stasi files so former subjects could see what had been written or said about them. Plans to rip the building down for the usual apartments and offices appear to have been shelved in favor of turning it into a living and working complex for artists and refugees. Many clubs and cultural organizations have already expressed an interest in moving in and another 1,000 apartments could also be built here. New developments are expected soon. Abandoned Statistik days are numbered.